Limited Edition Print - Future Oceans - October 20th, 2016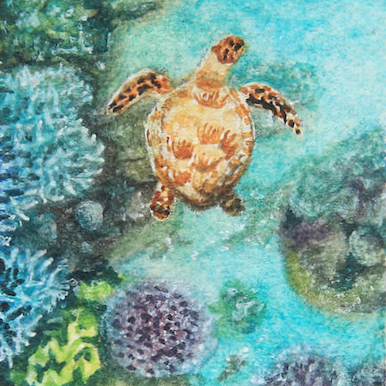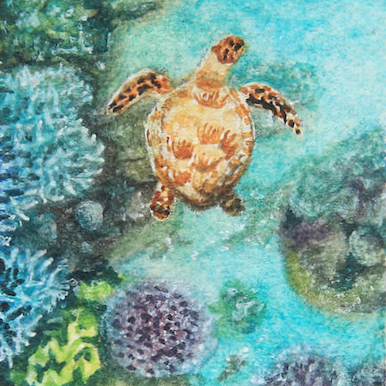 Limited Edition Print - Future Oceans - October 20th, 2016
These limited edition prints are archival quality reproductions of the tiny watercolour landscapes from my 50 day Future Oceans project in Fall 2016. Professionally printed by Fidelis Art Prints on a softly textured bright white watercolour paper. Prints are 4 x 6 inches with straight edges. The painting rests in the centre of the paper, confined to a 37 x 37 mm square - just like the original painting. Prints are embossed with a raised circle and signed by Marisa in pencil.
there are 25 prints in this edition

these digital reproductions are printed to order and take 5-7 business days to leave our studio

local pickup is not available for this item

photos shown are of another print in the series, to show quality and plastic free packaging
Please specify at checkout if you would like the abstract colour study pair that goes with your tiny landscape print. It's complimentary.
🙋🏻 Ocean Advocate: Abbie Hine ⠀
Abbie is the founder of WiseOceans & the Managing Director.⠀
.⠀
"Education is a brilliant way to increase enjoyment of the oceans and life within them - it is the key for preserving the marine environment. Education can stir up a sense of wonder for the oceans' beauty and a compassion for their vulnerability. Growing up by the coast, nature and the sea played a big role in driving me towards a career in marine science. Learning to dive clinched the deal. I've spent many years submerged and passionately embracing everything marine conservation related. Every dive, every snorkel, every walk along the coast you learn something new, inspired by how incredible the natural world is. Nothing compares to sharing that with other people and helping them learn to conserve the wonders around them."⠀
.⠀
🌎 Location:⠀
I spent a couple of years working on a reef restoration project, transplanting corals. I would be at about 3m underwater kneeling on the sandy bottom, attaching coral fragments broken by storms or unknowingly by snorkelers. Weighted down and remaining relatively still, the marine life would either get used to me or forget I was there entirely. I was in the most wonderful position for observing life on the reef. From juvenile lion fish learning to hunt to chilled out turtles. I gained a lot of my fish behaviour knowledge from these hours spent transplanting coral, certainly magical moments.⠀
.⠀
✌️ Action:⠀
Running a marine conservation and education company that inspires people to take action to protect the marine environment and life within it.⠀